Day9
This is Chiho Shibata.
Today is the last day of youth camp.
Times goes by so fast..
9days were quicker than the blinking of eye.
柴田智帆です。
今日はキャンプの最後の日です。
9日間はあっという間でした。




I am really appreciated about all campers , Japanese staff and people involved in this camp.
Because of you , it became amazing.

キャンプに関わった全ての人に感謝します。みんなのおかげで素晴らしいものになりました。

There were a lot of things.
It must be one of the best memories in my life. I hope everyone get something from this camp . I don't want forget all of it.
多くのことがあって、私の人生の中最高の思い出の一つです。
みんなキャンプから何かを得ていることを希望します。私はこのキャンプの全部を覚えていたいです。




Now I miss you all.
Thank for your corporation.
別れがさみしいです
ご協力ありがとうございました。

=============================================
Well my opinion about the camp is that the part in kyoto was great fun but norikura not as much
because of strict rules (and i understand u cannot change it but maybe u can consider another location with less strict rules?)
all the people were great and supportive, especially during my time of grieving.
I felt so many emotions during to camp and i think i'll remember it for good time.
I feel sorry for all team leaders for getting so little sleep and doing so much work!
I wish lions could do something about your conditions.
Program itself was goodly planned so i liked it,
personally i enjoyed the classical japanese arts and visits to historical sites the most.
That's all i can think about for now!
written by Alex
=============================================
I couldn't appreciate like the others the camp because I was a little sick but I had fun.
I made many friends thanks to this camp and discovers the Japanese culture, it was very interesting
I hope I could one day do it again or something like this
And thank you the staff member of this camp
written by Nolwenn


Day5
Good evening.
I'm Ikumi Okumura, the chief leader of this camp.
こんばんは、チーフリーダーの奥村郁海です。

Today we climbed Mt. Marukuro, which is around this Norikura Youth Friendship Center.
今日は私たちが滞在している乗鞍青少年交流の家のすぐ側の丸黒山を登りました。

It took about 6 hours. So, yes, that was very tiring, especially for Japanese camp staffs. But at the same time, it was a lot of fun because we chatted during climb.
6時間程度かかったので、日本人は特に疲れました。でも登りながら他の人とたくさん会話できたので、とても楽しかったです。

Tomorrow we're finally leaving here in Norikura for Kyoto. We will stop at the Nagashima Pool, we can stay there only for 2.5 hours though.
明日遂にここ乗鞍を出発します。途中2時間半だけですが、ナガシマジャンボ海水プールに寄ります。

Today was the 5th day of this camp. So it almost ended sadly. I will surely cry on the last day. Let's enjoy ourselves tomorrow.
今日はキャンプ5日目だったので、折り返しを過ぎ、終わりに近づいてきました。最終日には絶対泣くだろうなと今既に確信しています。明日からも最大限楽しんでいきます。

Day4
チーム3リーダーの名倉結です
今日は各国紹介の続き、スポーツ大会、星座観察をしました
3日間続いた各国紹介でお互いの国事情や様々な違いを学べたかなと思います
スポーツ大会ではバレーボールをしましたが
国は違ってもルールは同じで一緒に楽しめたようです
曇りだったので外での星座観察はできませんでしたが、室内で星座についてのお話を聞きました


I'm a leader of team3 yui nagura.
today, we did country presentations, sports festival and constellation observation
we can know each other about differences more and more.
we played volleyball.
even if the country is different, the rule is same so they can enjoyed.
and today was cloudy so we couldn't watch stars outside but we listened about constellation.

oday, we listened to some more country presentations. It was interesting to hear. After lunch we had a sport festival. We played some volleyball matches. We even got to play our own sports. I played badminton. After dinner we didn't get to look at the stars because it was cloudy. Instead we got a presentation about the Galaxy. It was fun to learn about the stars. Leonie


Day3
チーム4のリーダーの大塚悠平です。
I am team leader of 4,Yuhei Ohtsuka.
今日は午前中は白川郷に行き、午後からはスポーツ大会、夜には各国紹介とたくさんの行事がありました。
Today,we went to Shirakawago in the morning, we did sports festival in the afternoon,and presentation of each country.
特に白川郷では来日生のみんながとても感動していました。
Especialy in sports festival,all campers looks excited.
本当に毎日楽しく過ごしています!
We really enjoy everyday!


今日、私たちは白川郷に行きました。古い家のあるとても美しい村でした。
Today we went to shirakawago, a beautiful village with old houses.
村には川と、綺麗な吊り橋があり、とても感動しました。
The village was amazing, had a river going thru it an a hanging bridge which were very pretty. Ziv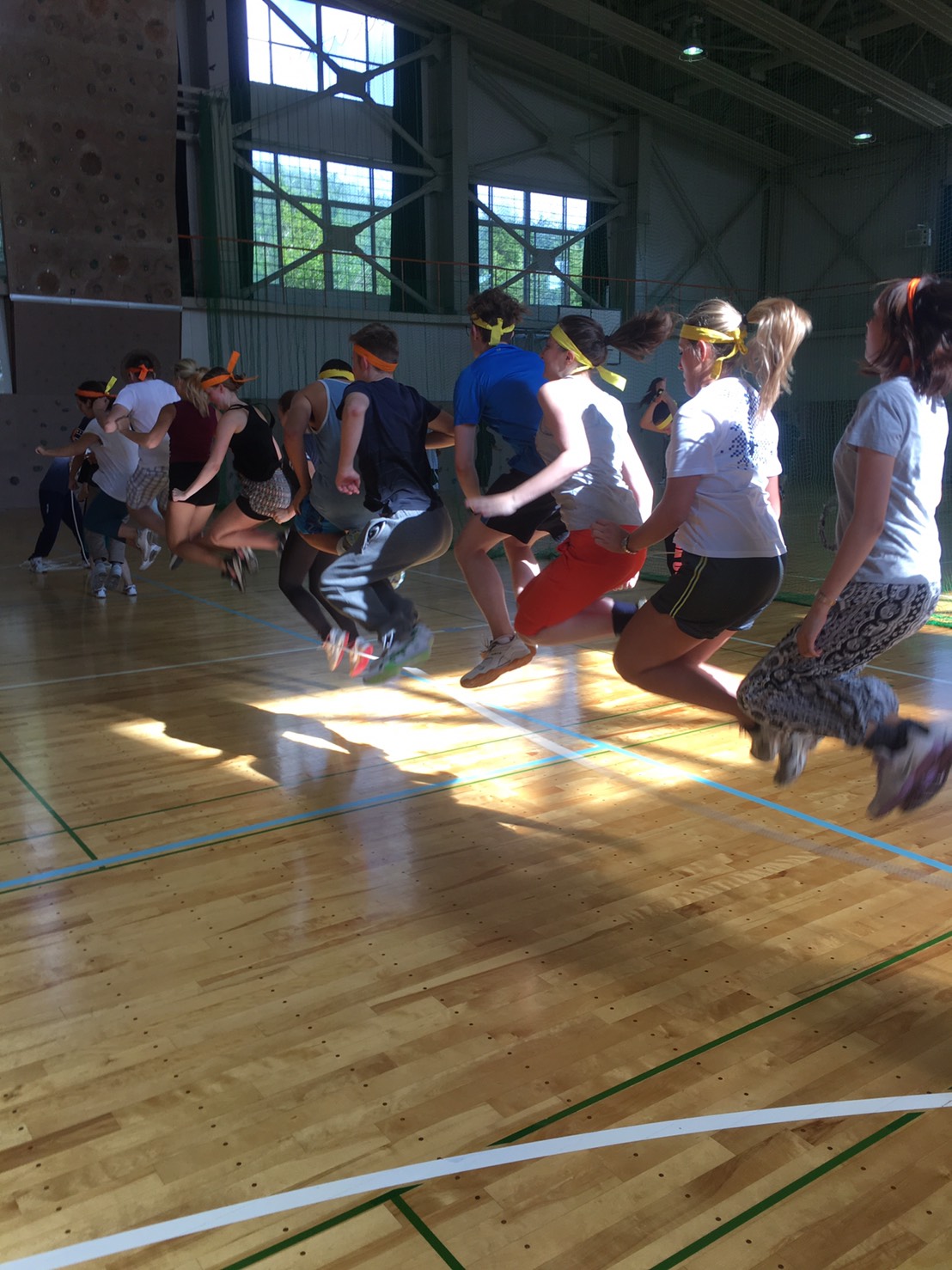 Day2
Today is very deep and fun!
First, we went to super kamiokande.
There is laboratory of neutrino,so interesting for me. Next we tried Sado and Kado,shodo, everyone for the first time,but especially Kado(flower arrangement) guys made wonderful one. In addition shodo also fun. Jacob wrote this means green tea lol.
So I have a good time with you guys:)

This day has been really good, because tea ceremony was really good, I really like green tea. Jacob
Camp Staff Meeting #2
team3リーダーの名倉結です
i'm a leader od team3, yui nagura.

7時間にわたるcsmt#2が終わりって、いよいよキャンプが近づいてきました
camp staff meeting 2 for 7 hours has ended and the camp will soon.


1日通してのリハーサルでした
私自身、今回で3回目のキャンプ参加になるのですが、この大変さにだけは毎回苦労します
today, we rehearsaled all day long.
this camp will be the third time as a staff for me but I have trouble with this difficulty each time.


今日企画書や動静表と睨み合いスタッフで必死に企画内容を詰めながら、まだまだ未完成な企画や、ほぼ完成状態な企画をみて
約2週間前まで迫ってきていよいよなんだなーと実感しました
we discussed about many things of the camp with planning papers and timetables.
there are some plans for which a discussion is necessary or nearing completion, I actually felt the camp will soon.


初めて参加した2年前とはかなり違う内容になって
不安な面もたくさんありますが、とっても楽しみです!
2 years ago I participated for the first time.
now the contents changed compared with 2 years ago.
i'm looking forward to it.

柴田さんを筆頭に
個性的なキャラクターを持ったスタッフのみなさんがすでに大好きです!笑
i love our staffs with unique character.

本当に本当に楽しいです!



気を抜きすぎず、引き締めすぎず
印象深いキャンプにできればなと思います

頑張ってきます!

i think not to relax, not to tight is important.
i want to make this camp fun.


Camp Staff Meeting #1

こんにちは。
私はサブリーダーの柴田智帆です。
キャンプに参加するのは今回が初めてです。
Hello. I am assistant leader of youth camp. For me, this is the first time to join the camp.





6月11日に第一回のキャンプスタッフミーティングを行いました。
On June 11, we held the first camp staff meeting.


最初に自己紹介やスタッフとしてのルール確認を行った後、日程の確認や日本紹介、スポーツ大会など各企画についての話し合いをしました。
Some of us met today for the first time, so we introduced ourselves. And then we talked about rules of this camp, schedule and programs such as Introduction of Japan, Sports Competition and so on.


直接話し合うことにより、より具体的にキャンプへのイメージを固められる機会になったと思います。
This meeting gave us clearer images about the camp.


[This video shows how the meeting was.]

キャンプまで一ヶ月弱となりました。
来日生、スタッフともに行ってよかったと思えるキャンプにできるよう残りの期間頑張りたいです!
There's only 1 month left for the Summer Youth Camp.
We'll do our best for better.


柴田智帆
Chiho Shibata


Summer Youth Camp Staffs designated

はじめまして。今年の夏季ユースキャンプでリーダーを務めさせていただきます、奥村郁海です。昨年夏季に続き、二回目のリーダーとなります。
Hi, I'm Ikumi Okumura, the chief leader of this Summer Youth Camp. Last summer I was the chief leader, so this is the second time for me. Nice to meet you.

去る5月21日(土)にキャンプスタッフエントリー者の面接を行い、スタッフの選考をおこなった結果、以下の8名に決まりましたので発表します。
On May 21th, we selected 8 Japanese Camp Staffs. The names below:

◎奥村郁海 Ikumi OKUMURA
○柴田智帆 Chiho SHIBATA
○平野里香 Rika HIRANO
大塚悠平 Yuhei OTSUKA
木村朱夏 Ayaka KIMURA
名倉結 Yui Nagura
森崎聖菜 Sena MORISAKI
細川美樹 Miki HOSOKAWA
冨永麻衣 Mai TOMINAGA

(◎リーダー chief leader
○サブリーダー assistant leader)

既に宿泊施設の見学に行ったり、企画を練ったりと、準備を進めています。
この9人で頑張っていきますので、応援よろしくお願いします。
We already started preparing for the camp and will do our best.
Thank you for your support.





奥村郁海
Ikumi Okumura

プロフィール
Author:youthcampstaff
Welcome to MD334 Youth Camp Blog!